Before initiating a backup, the Qubii app will inspect if your microSD card is both performing properly and compatible with your Qubii device before storing your precious memories on a potentially faulty card. This microSD card inspection will determine if your card meets quality assurance requirements and has up-to-date standard compliances. While testing, Qubii will also check if there are any other issues and prevent potential file corruption in the future.
What does a "capacity suggested differs from actual card capacity" mean?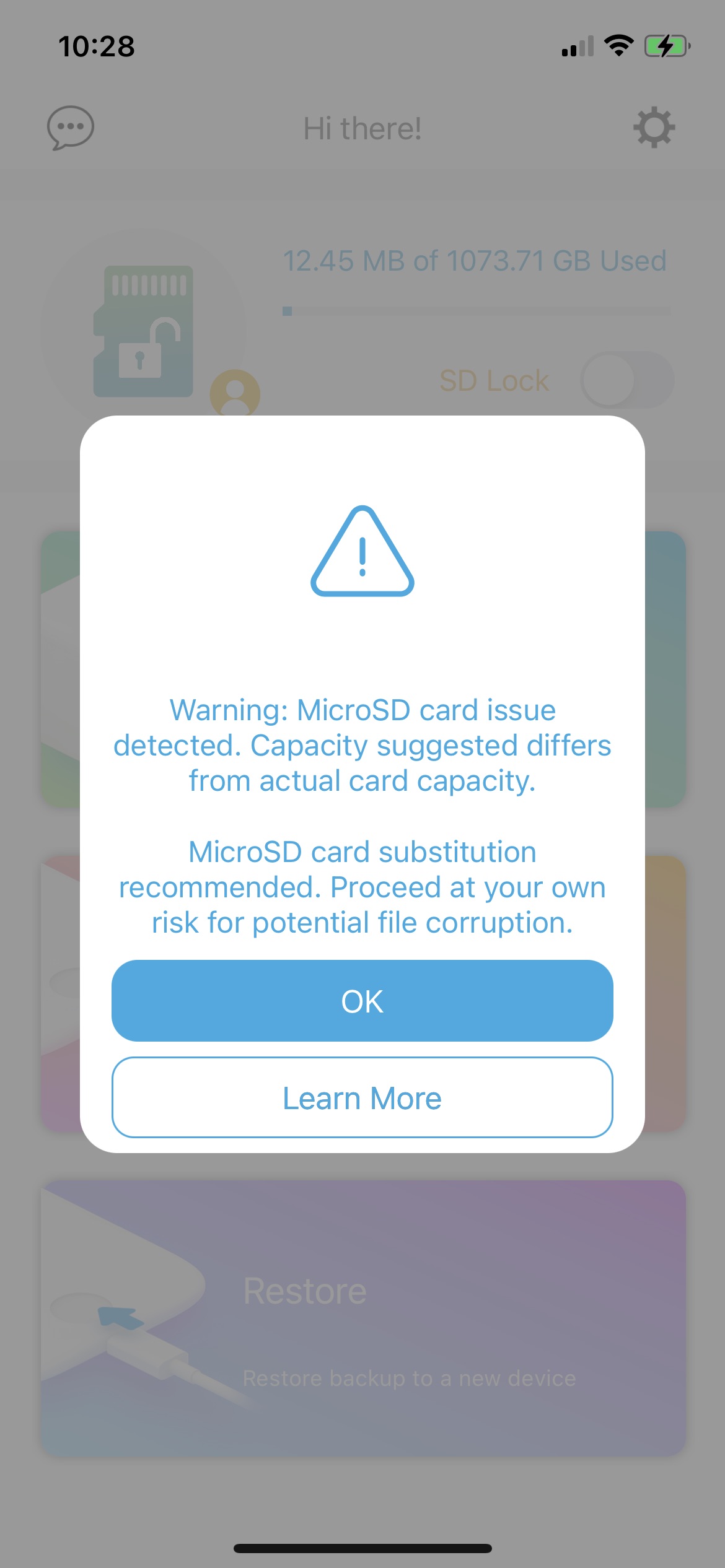 If you have received the following error message: "Warning: MicroSD card issue detected. Capacity suggested differs from actual card capacity", we strongly recommend that you stop using this microSD card immediately before performing a backup. This error means that the card that is inserted into your Qubii is potentially outdated, low quality or counterfeit. Continuing to use this card will put your files at risk of corruption or deletion.
Low quality, counterfeit or outdated microSD cards are known have less actual storage than advertised or may use methods that put your data at risk. Although these cards may be able to store data, just like modern name-brand cards, they have a high possibility of incurring issues over time. These microSD cards may take longer to read/write data (meaning longer backup times), become corrupted or even overwrite existing files resulting in permanent data loss.
Before use with your device, Qubii will test the storage capacity of a microSD card as part of a more comprehensive test to make sure its stability meets minimum standards before transferring data onto it and putting your photos, videos and other data at risk.
*Please Note: There are common counterfeit microSD card scammers in the market who specialize in modifying the capacity of cheap microSD cards and making these appear as if they are normal brand-name ones. For example, a counterfeit microSD card may advertise a capacity as high as 512GB or 1TB, but hold as little as 8GB of actual data. This card may also include a firmware hack that will trick your device into "seeing" a higher storage capacity than is available. However, when writing large amounts of data onto this low capacity card, existing data will be overwritten or an error will be displayed. In either case, your data may get corrupted irreversibly. If these cards are used to store data, it may result in the following:
Irreversible Data Loss: When there is not enough space on the card to store data where it should be, these cards may overwrite your original data. In other words, the "extra-space" that "appears" on the card will modify itself to replace your files once the storage capacity is reached so that it will appear that you have a microSD card with a larger storage capacity.
Longer Read/Write Times: If the counterfeit card is poor quality, you may experience longer uploading or downloading times in addition to data loss. This may cause error messages to appear or cause crashes when uploading - leading to a loss of photos, videos or other data.
How does Qubii test microSD cards?
The Qubii app will test the microSD card by continuously writing data onto different areas of the card. The app will then analyze whether the writing speed meets minimum standards as well as if the writing speed remains stable or fluctuates. If any issues are detected, the Qubii app will notify you.
How can I select a reliable microSD card for my Qubii?
In order to avoid potential risks caused by a low-quality, fake or counterfeit microSD card, Maktar has compiled some tips to help you purchase the right microSD card for you:
1. Choose MicroSD cards with write speeds greater than 10MB/sec
Qubii needs a minimum of 10MB/s of write speed to properly back up and transfer files. The read/write speed will determine how quickly your Qubii can store data on your card. While the Qubii supports as low as 10MB/s, we highly recommend selecting a microSD with 30MB/s write speed or greater. You can use the Qubii SD card testing tool to check the performance of your microSD card before storing data on it.
*Please Note: The Qubii SD card testing tool may produce results that differ from your SD card provider's manufacture label. Minor variations may be caused by slight deviations in the manufacturer's testing protocol.
2. Select a microSD card from well-known brand names, trusted companies and official sellers.
When shopping for a microSD card, buying a card from a well-known brand name, although slightly more expensive, will save you money in the long run. Brand name cards are more durable, last longer and are more reliable than the cheaper knock-off versions. You can also expect better performance and a longer lifespan in addition to faster read/write speeds. Two of the most popular microSD card brands are Sandisk and Samsung.

*Tip: Avoid microSD cards that are too cheap or sold under the market price, as these are likely fake. Their packaging may appear to have come from legitimate companies and may be labeled under familiar brand names, but these are often knock-offs and are not the same quality.
3. Buy microSD cards from authorized sellers like retail chains or reputable online stores.
Always be sure to order microSD cards from trusted sources. Normally an authorized seller will use trademark names under their listings and will provide better customer support when contacted. Also, when buying from a reseller such as Amazon, NewEgg, Walmart, etc., always make sure that the card is sold and shipped by the same company.
4. Choose microSD cards that have been certified by Maktar.
After thorough and meticulous examination, Maktar has selected SanDisk as our preferred microSD card provider. Maktar offers our customers a Qubii and SanDisk microSD card combo package through any of our official sales channels. For purchases made from one of our approved sites, we guarantee that the product is original, of good quality and will be compatible with the Qubii you have purchased.
Support
If you are still having trouble, please contact the Maktar Customer Support Center for further assistance.
Customer Support Contact Information:
Qubii Pro App: App -> Select upper-left chat icon -> Contact US
Facebook Messenger: m.me/maktar.inc
Email: support@maktar.com