If you want to back up photos from iCloud to your Qubii, you can do this easily by adjusting the settings in your Qubii App:
Settings > Backup Items > Backup Camera Roll > Turn on "Backup iCloud Contents"
Settings > Backup Items > Turn on "Download using Wi-Fi only"
Please turn off your 4G/5G mobile internet and switch to Wi-Fi in your device settings.
Following these steps, you should be able to successfully sync your photos from your iCloud to Qubii while your phone is connected to Wi-Fi.
*Please Note: Syncing large quantities of photos/videos from your iCloud account uses a lot of internet data. Because of this, we recommend using a stable Wi-Fi connection and turning off mobile network connection for the duration of the backup.
Tips to Successfully Back Up iCloud Data:
Be sure you have enough space on your iPhone or iPad.
In order to back up your iCloud data to your Qubii, the Qubii app must sync the photos from your iCloud to your phone, which involves first downloading these files onto your device. This step must be taken due to Apple's restrictions for 3rd party accessories accessing iCloud data directly. Because of this, Maktar is unable to pull your photos/videos from iCloud to Qubii without first storing these in your iPhone or iPad.
What if your iPhone does not have enough space and you would like to backup iCloud photos?
If the storage space in your device is insufficient, the Qubii App will freeze once the storage capacity is reached. You will not be able to tap CANCEL to stop the backup. Please make sure you have enough space on your phone to sync photos from your iCloud onto it before starting the backup.
*Tip: Because Qubii's download priority is photos > videos > contacts > etc., if you are out of storage space, we recommend that you can first turn off iCloud notifications and then reconnect your Qubii. Your Qubii should begin to sync videos/contacts (temporarily skipping iCloud photos). Once this backup is complete, you can delete photos from your camera roll to make space to finish syncing iCloud photos.
If your Qubii app freezes during a backup:
From the Home Screen or inside the app, swipe up from the screen's bottom and hold. You will see all open apps and their previews. Find the Qubii app and swipe up on the app card to force quit it.
Delete the backed up photos from your phone to free up some space:
• Go to Qubii App > settings > tap "Remove Backed Up Items"
• The backed up photos will be removed from your camera roll to your trash albums.
• Your iPhone will automatically keep these photos in the trash albums for 30 days. You will need to delete it manually to free up some space.
• Be sure to double back up the photos to another hard drive before you delete them permanently.
Once your phone has enough space, it should be able to sync photos from iCloud.
How long will it take to backup iCloud photos?
Depending on the amount of photos in your iCloud account and Wi-Fi speed, it may take anywhere from few hours to a few days to fully offload your photos from iCloud to Qubii.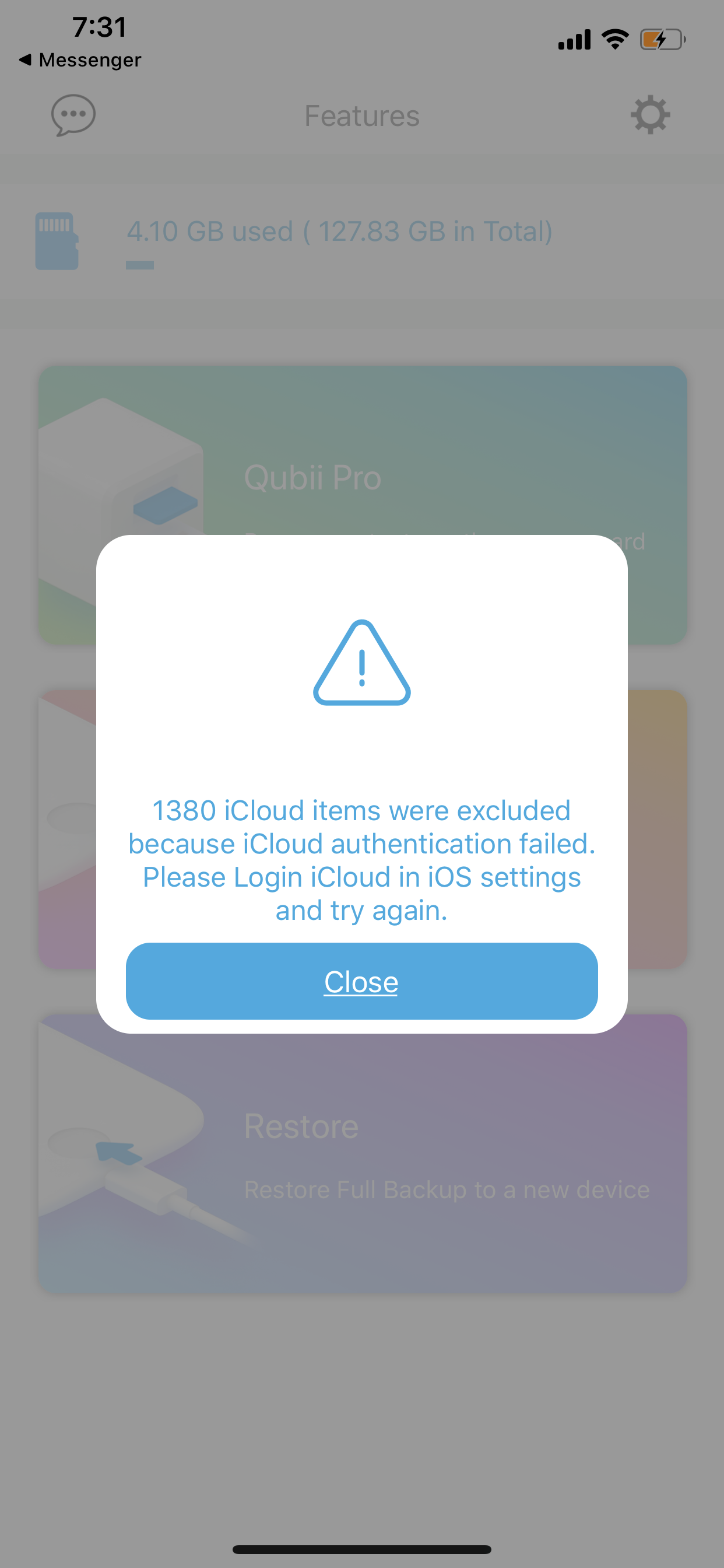 I have already turned on the iCloud backup feature. Why am I still receiving this message?
If you already have completed the steps above but still see a warning message asking you to log in to iCloud in iOS settings, try these steps:
Go your iPhone setting > click your name on the top > scroll down to the bottom
Tap sign out > sign in again with your Apple ID again.
Then, Qubii should able to sync your photos from iCloud.
Support
If you are still having trouble, please contact the Maktar Customer Support Center for further assistance.
Customer Support Contact Information:
Qubii Pro App: App -> Select upper-left chat icon -> Contact US
Facebook Messenger: m.me/maktar.inc
Email: support@maktar.com