If you want to download photos from iCloud, you can adjust certain settings in the Qubii App. Please follow these steps:
Step 1:
Settings > Backup items > Backup Camera Roll > Turn on"Backup iCloud Contents"
Step 2:
Settings > Backup items > Turn on "Download using Wi-Fi only"
Downloading photos from iCloud will take a lot of internet data, so we recommend using Wi-Fi when backing them up. You can download your photos from iCloud to Qubii successfully as long as your phone is connected to Wi-Fi the entire time.
*Please note that you need to turn OFF your 4G internet and switch to the Wi-Fi on your iPhone setting. Qubii will not download any photos from iCloud unless it's through a Wi-Fi connection."
*Be sure you have enough space on your iPhone. When Qubii is downloading photos from iCloud, it needs to offload them onto your iPhone first before being backed up to Qubii. Kindly note that 3rd party accessories are prohibited by Apple from directly downloading data from the iCloud. Maktar is unable to pull all your photos from iCloud to Qubii. Therefore all files must be stored into your iPhone before backing them up to Qubii.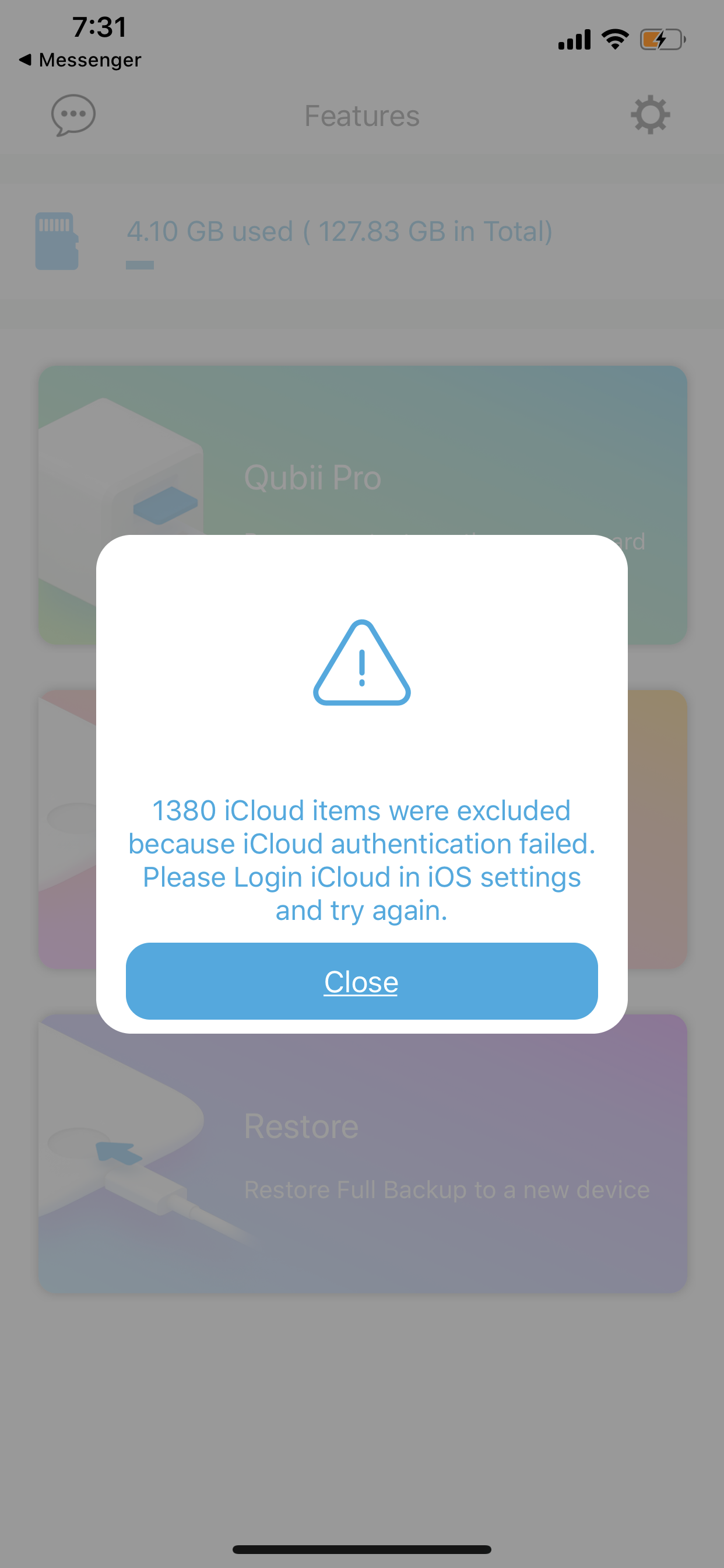 *If you already have completed the steps above but still see a warning message asking you to log in to iCloud in iOS settings, try these steps:
iPhone settings > click your name on the top > scroll down to the bottom > click sign out > sign in again with your Apple ID. Qubii should then able to download your photos from iCloud.
It may take anywhere from few hours to a few days to offload your photos from iCloud to Qubii, depending on the number of photos and Wi-Fi speed.
If you are still having trouble, please contact Customer Support for further assistance.
Customer Support Contact Information:
In-App: App -> Tap "top left chat icon"-> Contact US
Facebook Messenger: m.me/maktar.inc
Email: support@maktar.com