Sit back and relax. If your microSD card incurs any issues, we can ensure Qubii will thoroughly inspect your card before storing your precious memories. Qubii will first launch a MicroSD card test for inspection to make sure your card meets the quality assurance and up-to-date standard compliances. While testing, Qubii will also be able to detect possible SD card issues and prevent potential file corruption in the future.
What does "Error Message: Warning- Warning: Abnormal slow read/write speed mean?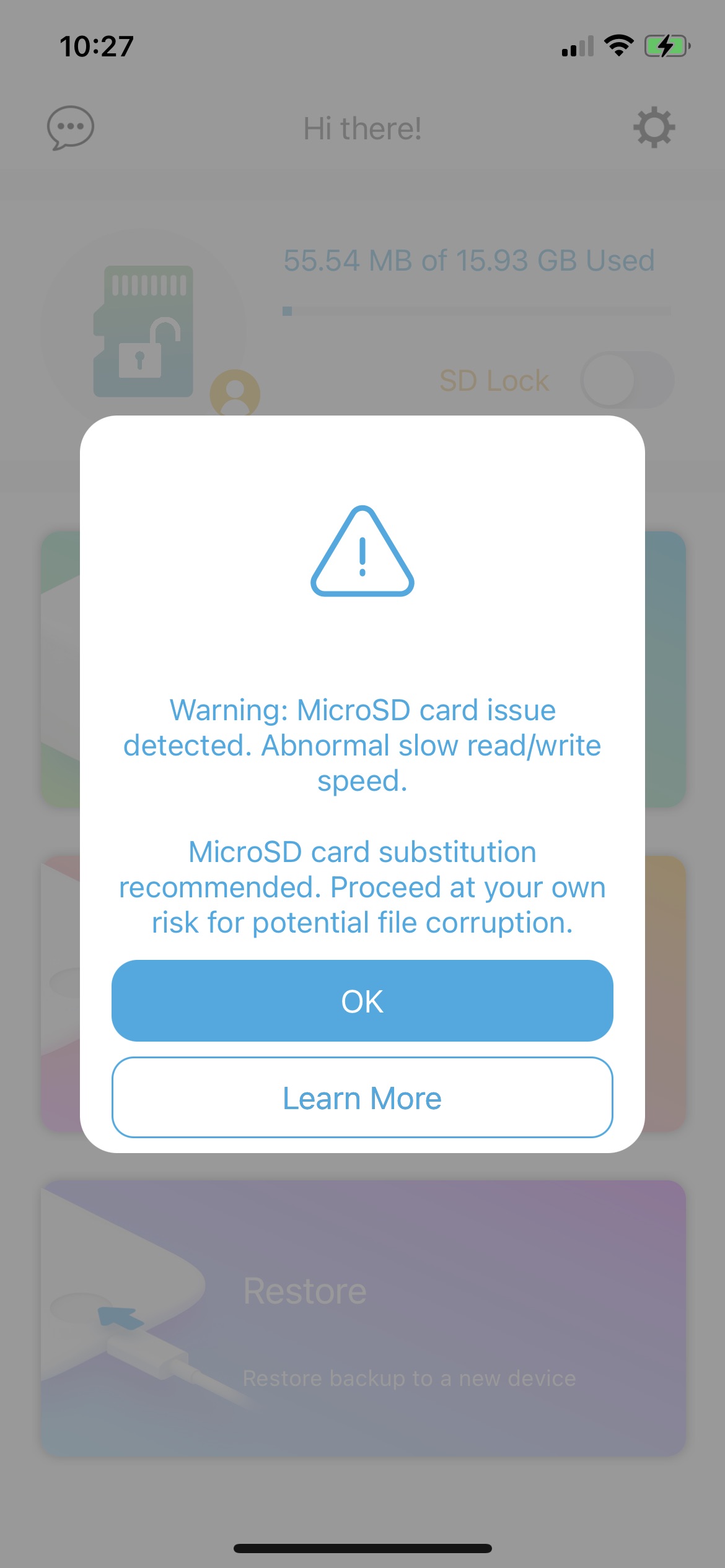 If you have received the following error message, "Warning: Abnormal slow read/write speed", we strongly recommend that you STOP using this microSD card immediately. This card is a low quality version. Continuing to use it will risk the corruption or deletion of your files. These microSD cards are known to be slow at reading and writing data. They may be able to store data well in the beginning, just like name brand cards, but will incur issues over time. It may take longer to read data, become corrupted or even overwrite existing files, causing you to lose saved data.
Using Qubii will test the read/write speed of a microSD card to make sure its stability meets the standard before transferring data onto it.
How does Qubii conduct microSD inspections?
The Qubii App will test the microSD card by writing the data continuously into different areas of the card. It will then analyze whether the writing speed is qualified or not and see if the writing speed remains stable or varies.
How can I select a reliable microSD card?
In order to avoid potential risks caused by a low quality, fake or counterfeit microSD card, Maktar has listed some tips for purchasing microSD cards for your reference:
1.MicroSD Card Write Speed > 10MB/sec
Qubii needs a minimum of 10MB/s of write speed to properly backup and transfer files. However when selecting a microSD card we highly recommend 30MB/s write speed.
Kindly note that the Qubii SD card testing tool may produce a result that differs from your SD card provider's manufacture label. (Please factor in the manufacturing standard deviation).
2.Select a microSD card from well-known brand names, trustable companies and sellers.
Buying cards from a well-known name brand is more worthwhile than purchasing a cheap knock-off. Name brand microSD cards are more durable and last longer. You can also expect better performance and extended reliability. Two of the most popular microSD card brands are Sandisk and Samsung.
Avoid fake or knock-off microSD cards that are too cheap and are sold under the market price. If the price is too cheap then most likely it is fake. Their packaging may appear to have come from legitimate companies and are labeled under familiar brand names, but they are not of the same quality.
3.Buy from authorized sellers like retail chains or reputable online stores.
Always order from trusted sources. Normally an authorized seller with microSD cards under trademark names will provide better customer support when contacted. Also, when buying from a reseller such as Amazon, NewEgg, Walmart, etc., always make sure that the memory card is sold and shipped by the same company.
4.Choose microSD cards that have been certified by Maktar.
After thorough testing of every detail and with meticulous examination, Maktar has selected SanDisk as our microSD card provider. Maktar offers buyers a Qubii and SanDisk microSD card combination package through any of our various sales channels. For every purchase from our approved sites, we guarantee that the product is original, of good quality and compatibility a microSD card should have.