\If your microSD card incurs any issues, we can ensure Qubii will thoroughly inspect your card before storing your precious memories. Qubii will first launch a MicroSD card test for inspection to make sure your card meets the quality assurance and up-to-date standard compliances. While testing, Qubii will also be able to detect possible SD card issues and prevent potential file corruption in the future.
What does "Error Message-Warning: Capacity suggested differs from actual card capacity" mean?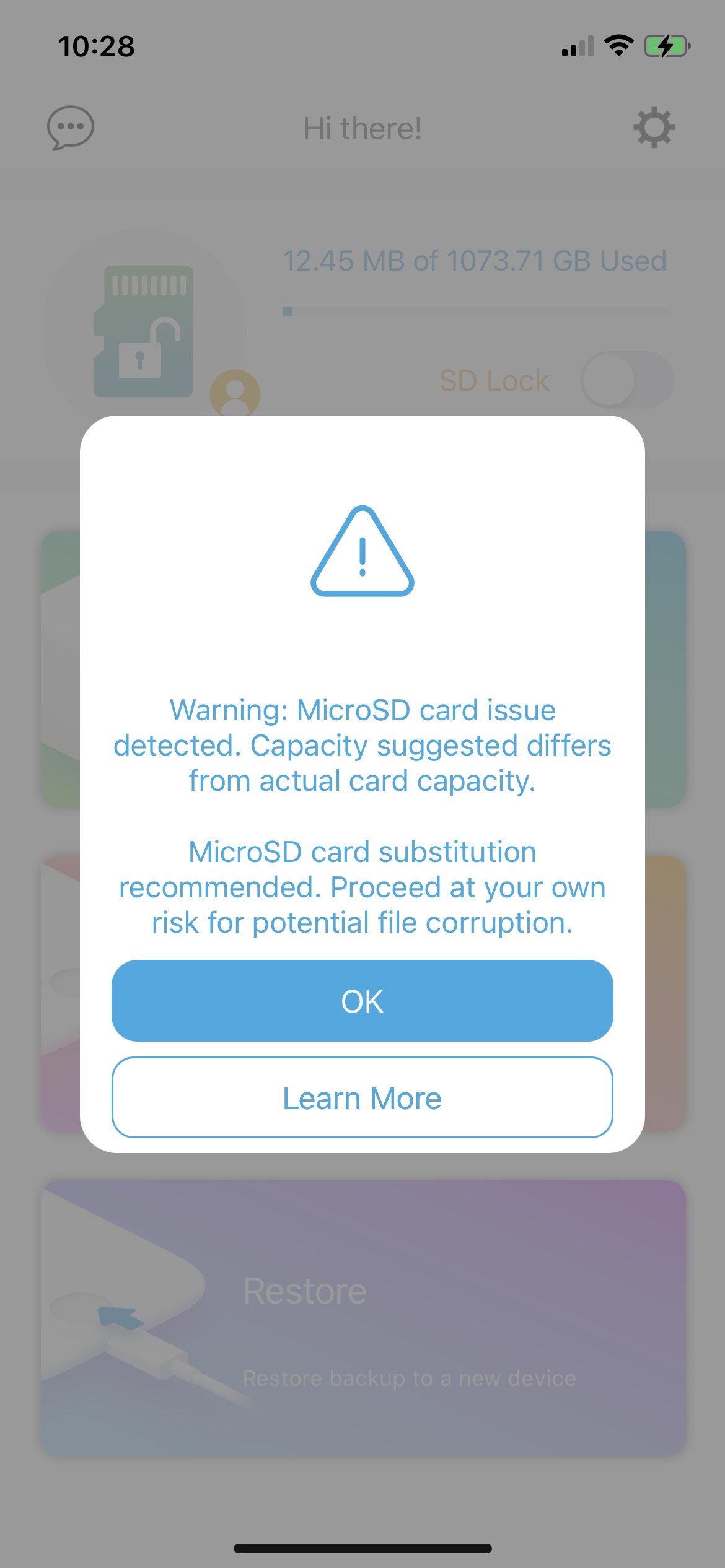 This notification means that the microSD card you are currently using is a fake that has less actual storage than originally advertised. We strongly recommend you purchase a brand name microSD card before initiating your backup process.
There are scammers in the market who specialize in modifying the capacity of microSD cards and making these versions appear as normal cards. For example, a knock off card that may only hold 8GB will be sold under a label that reads 512GB or 1TB. This card will include a firmware hack that allows your device to "see" the card as 512GB or 1TB and will try to write a large amount of data onto a low capacity card.
This will either overwrite existing data or result in an error. In either case, your data may get corrupted irreversibly.
The data from the host device onto it may result in the following:
When there is not enough space on the card to store all of the data where it should be, it will automatically overwrite your original data. In other words, the so-called 'extra space' will modify itself to replace existing data once the card is full so that it will appear that you have a microSD card with a large capacity.

If the knock off microSD card is of poor quality, you may experience longer uploading times or suffer data losses. It will display messages showing errors or crashes when uploading leading to a loss of videos, pictures and other data.
How does Qubii identify fake microSD cards?
The Qubii App will read and write on the same area of the microSD card that holds memory. While doing this Qubii can automatically run an inspection of the (different areas of the) card to make sure the data can be written and read successfully.
How can I select a reliable microSD card?
In order to avoid potential risks caused by a fake microSD card, Maktar has listed some tips for purchasing cards for your reference:
1) MicroSD Card Write Speed > 10MB/sec
Qubii needs a minimum of 10MB/s of write speed to properly backup and transfer files. However when selecting a microSD card we highly recommend 30MB/s write speed.
Kindly note that the Qubii SD card testing tool may produce a result that differs from your SD card provider's manufacture label. (Please factor in the manufacturing standard deviation).
2)Select a microSD card from well-known brand names, trustable companies and sellers.

Buying cards from a well-known name brand is more worthwhile than purchasing a cheap knock-off. Name brand microSD cards are more durable and last longer. You can also expect better performance and extended reliability. Two of the most popular microSD card brands are Sandisk and Samsung.
Avoid fake or knock-off microSD cards that are too cheap and are sold under the market price. If the price is too cheap then most likely it is fake. Their packaging may appear to have come from legitimate companies and are labeled under familiar brand names, but they are not of the same quality.
3)Buy from authorized sellers like retail chains or reputable online stores.
Always order from trusted sources. Normally an authorized seller with microSD cards under trademark names will provide better customer support when contacted. Also, when buying from a reseller such as Amazon, NewEgg, Walmart, etc., always make sure that the memory card is sold and shipped by the same company.
4) Choose microSD cards that have been certified by Maktar.
After thorough testing of every detail and with meticulous examination, Maktar has selected SanDisk as our microSD card provider. Maktar offers buyers a Qubii and SanDisk microSD card combination package through any of our various sales channels. For every purchase from our approved sites, we guarantee that the product is original, of good quality and compatibility a microSD card should have.